Soffits, Fascia &
Eavestroughs
in Calgary
Trusted Builders & Certified Installers
We offer a 5-year workmanship warranty in addition to all manufacturer's warranties for our roofing and siding services. At Active Exteriors, your safety and satisfaction are our top priorities.
More Than Your Typical Roofer
At Active Exteriors, we know value better than most. In addition to roofs and siding, we place an added emphasis on the importance of your eavestroughs, soffits and fascia in Calgary. Together, this system provides your home with added protection against floods and leaks, enhances aesthetics and improves ventilation. We can showcase our quality workmanship by installing gutters, fascia and soffits in Calgary that enhance your home while also offering eavestrough repair in Calgary when required. Let us improve the safety, value, and appearance of your home with our expertise and knowledge. 
Why Are Soffits & Fascia Important?
Become Our Next Satisfied Customer
"Active Exteriors replaced all 14 windows in my home, my entire roof from pine shingles to asphalt shingles and all my eavestroughs.

I was charged exactly what i was quoted, workmanship was excellent. The installation process went very smooth with almost no issues. We had one minor issue after the work was done but James attended to the issue within a day and have not had any issues since. I am super happy with the roof and especially the new windows, no more cold draft coming through nor any moisture build up."
Read More
"My mom needed her roof replaced at her house and I was referred this company and couldn't be happier with their service. Came on time and did the job with no hassles or headaches. Thanks for the amazing experience!"
" Professionalism, Punctuality, Quality, Responsiveness, Value. Hire these professionals.
"Active Exteriors was great to work with! Everyone was very helpful. Angela ,helping organize things, Craig, with my questions & concerns & Goni & the roofing crew actually replacing the roof.

Everything was handled very professionally & done in a timely manner. While doing the roof they were quick, thorough ,& kept things clean! I'm very happy with my new roof & would highly recommend Active Exteriors!"
Read More
"Four years after the job was completed, we discovered a small problem with our windows that we needed fixed in order to install new window treatments.

As our blinds were being installed less than a week after we discovered the issue, there was a serious time crunch. It took a couple of phone calls but Active had someone fix the problem in time for us to prep the wall for the new installation. I was impressed and relieved that, even after considerable time had elapsed, they were willing to fix their mistake. This is a company who is willing to stand behind their work so I would definitely use them again."
Read More
Request a FREE Quote Today!
Call Active Exteriors today! We take an active approach to exteriors with competitive prices, outstanding warranties, and fantastic customer service.
Exterior Roofing Components
Maintaining Your Eavestroughs in Calgary
Gloves, a garden hose, a ladder, a garden trowel and a waste bin are what you need to clean and maintain your eavestroughs and gutters. You should remove all excess debris from your eavestrough and gutters before flushing them with water. You can use a hose with a spray attachment to clean the soffit and fascia. If you run into issues, you can call the best roofing contractors in Calgary to help install or repair your eavestroughs in Calgary.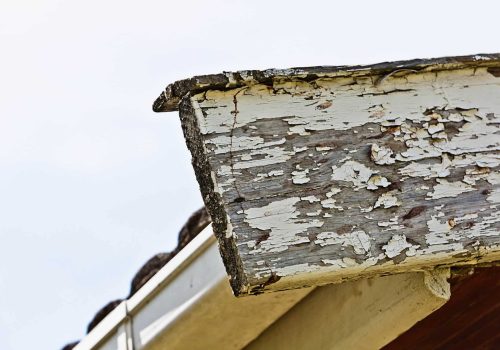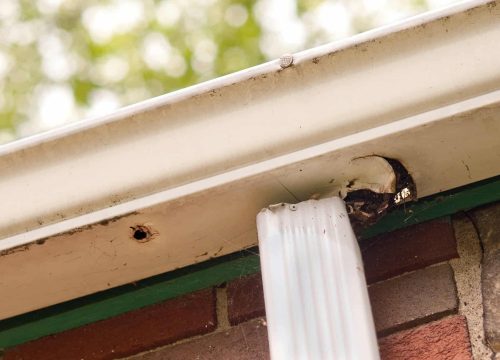 Why Do I Need a Roof Replacement?
What About Commercial Eavestroughs?
Eavestroughs are just as important for protecting homes as they are for commercial properties. However, the systems are quite different. Commercial eavestroughs are larger, and there is less consideration for aesthetics. Commercial eavestroughs must also adhere to specific codes and regulations for safety purposes. At Active Exteriors, we know the building codes inside and out, so we are equipped to assist with all commercial roofing, siding, and eavestroughs in Calgary.
It is best to get your eavestrough cleaned once to twice a year. Although you can do it yourself, it is safer to let one of our professionals handle it.
Ignoring clogged gutters can have serious consequences, such as flooding, erosion and mold growth. It is best not to ignore clogged gutters, and to stick to a regular cleaning schedule.
With proper and consistent maintenance, fascia and soffits can last for a decade or so, while gutters can last up to 20 years.